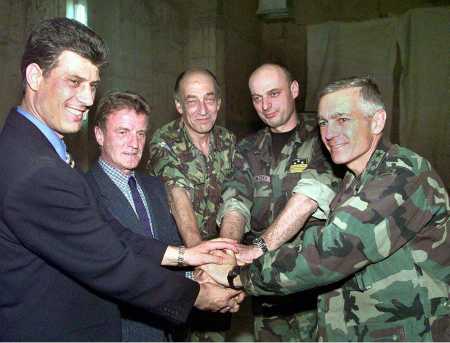 This website is dedicated to exposing WESLEY CLARK as a WAR CRIMINAL and SUPPORTER OF TERRORISM. With the use of dozens of sources, written by various different political groups, from democrats to republicans, the sources will expose Clark as a man who not only led an illegal and criminal war against Yugoslavia in 1999, but also sided and aided a terrorist group with ties to Osama Bin Laden.
"...He's the butcher of Kosovo. Maybe that's what we need right now is a butcher..." MICHAEL MOORE on Wesley Clark
Wesley Clark's Victims in Kosovo
Wesley Clark SUPPORTED and AIDED a terrorist group known as the "KLA."
The "KLA" is LINKED, FUNDED, and AIDED by OSAMA BIN LADEN!
The U.S. State Department classified the "KLA" a TERRORIST GROUP in 1998.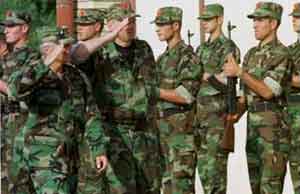 Wesley Clark saluting the KLA terrorists in Kosovo.
READ ON....

KLA terrorists still operate in Kosovo, South Serbia and Macedonia

BIN LADEN SUPPLIED KLA DURING THE KOSOVO WAR

Interpol believes that Osama bin Laden is linked to Albanian gangs who have taken over a growing web of crime across Europe. The investigations into organised crime links with his terrorist network also show that Mr bin Laden supplied one of his top military commanders for an elite KLA unit during the Kosovo conflict....
MORE ON THE KLA, CLICK HERE:
Washington Times, KLA Rebels Train in Terrorist Camps, May 4, 1999
The New American, DANGER THE KLA IN USA, May 24 1999
NLA/UCK Albanian extremists in Macedonia Directly Linked to Bin Laden
KLA Rebels Train in Terrorist Camps
Al Qaida in Macedonia and Kosovo
INDEPENDENT (UK)- BIN LADEN LINKED TO ALBANIAN DRUG GANGS
Times, KLA - Mafia Links Alarm West, July 26, 00

The Times, Sex Slave Trade Thrives Among Kosovo Troops, Feb 5, 00

Albanian Economic Tribune, Albanian Mafia

Moved Into Kosovo On NATO Heels, Sep 3, 00

The Express, Albanian Mafia, KLA and Kosovo Aid, Sep 16, 00

Cops Vs CIA - KLA And Heroin Trade, Aug 3, 00

National Post, Alb Mafia Pounces on Kosovo Power Vacuum, Sep 6, 00

Gazeta Sqiptare, Criminal Strongmen Leave Tropoja, Aug 26
Independent UK, Albanians Redraw Italy's Crime Map, Feb 20
Reuters, Bulgaria Seizes 22 kg of Heroin in Albanian Truck, Feb 25

MJ, Heroin Heroes, Jan/February 2000
Center For Peace in the Balkans - Balkan, Albania, Kosovo, Heroin, Jihad

KOSOVO FOUR YEARS LATER
Isabel Vincent
National Post

Wednesday, December 10, 2003

Four years after it was "liberated" by a NATO bombing campaign, Kosovo has deteriorated into a hotbed of organized crime, anti-Serb violence and al-Qaeda sympathizers, say security officials and Balkan experts.

Though nominally still under UN control, the southern province of Serbia is today dominated by a triumvirate of Albanian paramilitaries, mafiosi and terrorists. They control a host of smuggling operations and are implementing what many observers call their own brutal ethnic cleansing of minority groups, such as Serbs, Roma and Jews.

In recent weeks, UN officials ordered the construction of a fortified concrete barrier around the UN compound on the outskirts of the provincial capital Pristina. This is to protect against terrorist strikes by Muslim extremists who have set up bases of operation in what has become a largely outlaw province.

Minority Serbs, who were supposed to have been guaranteed protection by the international community after the 78-day NATO bombing campaign ended in the spring of 1999, have abandoned the province en masse. The last straw for many was the recent round of attacks by ethnic Albanian paramilitaries bent on gaining independence through violence.

Attacks on Serbs in Kosovo, a province of two million people, have risen sharply.

According to statistics collected by the UN criminal tribunal for the former Yugoslavia at The Hague, 1,192 Serbs have been killed, 1,303 kidnapped and 1,305 wounded in Kosovo this year.

In June, 1999, just after the NATO bombing, 547 Serbs were killed and 932 were kidnapped.

Last summer, in one of the more grisly massacres, two Serb youths were killed and four others wounded by ethnic Albanian militants while swimming in the Bistrica River, near Pec.

The violence continues despite an 18,000-strong NATO-led peacekeeping force and an international police force of more than 4,000.

Serbs, who now make up 5% of the population of Kosovo, down from 10% before the NATO campaign, are the main targets of the paramilitary groups.

The bombing was partly launched by NATO countries to end the ethnic cleansing of Albanians by Serb security forces in the region. In its immediate aftermath, many Serbs left Kosovo to settle in other parts of Yugoslavia, now known as Serbia and Montenegro.

Last week, Harri Holkeri, the province's UN leader, suspended two generals and 10 other officers, all members of an ethnic Albanian offshoot of the Kosovo Liberation Army, an insurgent group that emerged in the late 1980s to fight Serb security forces.

Mr. Holkeri made his decision -- the strongest UN response to violence in the province so far -- after a UN inquiry into the Kosovo Protection Corps (KPC). Although the civilian defence organization is supposed to help local residents, over the past four years, its mostly ethnic Albanian military officials have been involved in violent confrontations with Serbs.

The inquiry found last April's bomb attack on a Kosovo railway was the work of the KPC.

"The whole process of rebuilding Kosovo-Metohija as a democratic, multi-ethnic society failed due to both the inability of the UN mission and [NATO] forces to protect Serbs and other non-Albanians from large-scale ethnic cleansing, this time primarily against Serbs," said Dusan Batakovic, a Serb diplomat and leading expert on Kosovo.

Dr. Batakovic and other Balkan experts, who attended a conference in Toronto last month to discuss Kosovo's future, say the situation is deteriorating rapidly.

"NATO forces made a real mess of Kosovo," said James Bissett, a former Canadian ambassador to Yugoslavia. "The bombing of Yugoslavia was a dreadful failure on humanitarian grounds. It failed to stop ethnic cleansing, which has continued after the so-called peace treaty."

In addition, "Balkan Taliban" -- Muslim ethnic Albanian paramilitary groups -- have vandalized Serb cemeteries and destroyed many of the region's Orthodox Christian monasteries and churches.

"This is a strategy of cutting Kosovo Serbs off from their historical and religious traditions," said Dr. Batakovic in his report to the North American Society of Serbian Studies conference.

Moreover, Kosovo has turned into one of Europe's biggest hubs for drug trafficking and terrorism.

Al-Qaeda has set up bases in the province, which has become an important centre for heroin, cigarette, gasoline and people smuggling.

The Albanian mafia and paramilitary groups, which security officials say are closely tied to al-Qaeda militants in the region, also oversee smuggling. More than 80% of Western Europe's heroin comes through Kosovo, where several drug laboratories have been set up, Interpol officials say.

During the wars (1991-99) that led to the breakup of Yugoslavia, drugs and other commodities were smuggled through Bulgaria and Turkey to Western Europe.

Now, more than 5,000 tonnes of heroin pass directly through Kosovo every month. In a recent article in Serbia's Vreme magazine, Kosovo was referred to as the "republic of heroin."

"The Albanians have become the alpha and omega of the drugs trade in southeast Europe," said Marko Nicovic, chairman of the International Police Association for the Fight Against Drugs.

"There are two reasons for this. The first is the fact that Kosovo is now under the control of the Albanian mafia lobby and the criminal police do not operate there. This is literally a paradise for all kinds of crime, especially narcotics."

The Albanian mafia also control trafficking in cigarettes, weapons, gasoline and women. Dozens of young women from impoverished towns and villages in the region are forced into prostitution rings centred in Kosovo, security officials say. Many of the women are taken by mobsters to work in Western European countries.

There is little consensus on the way ahead.

Many Serbs and moderate ethnic Albanian politicians would like a decision on Kosovo's legal status -- should it remain a province of Serbia or become independent?

Many ethnic Albanians are calling for independence, but their more extremist elements would like to fold the province into a Greater Albania that would see ethnic Albanians take over the mostly Albanian regions of neighbouring Macedonia as well.

The Serb government in Belgrade wants Kosovo to continue as part of Serbia.

Although it is four years since the NATO bombing, talks on Kosovo's future began only recently. Serb and ethnic Albanian leaders met in Vienna in October to discuss transportation and the return of Serb refugees to Kosovo.

"At this point, the chances for Kosovo remaining in Serbia are pretty slim," Mr. Bissett said. "There is a powerful Albanian lobby in the United States that is determined to make Kosovo independent."

Moreover, many Serb leaders know that to attract the much-needed aid and investment, they will need to give way on Kosovo, experts say.

In the meantime, the situation is expected to get worse, with renewed threats of violence against both the United Nations and Serbs in the province.

"It's a terrible situation," said Mr. Bissett. "If the United Nations and other organizations can't handle Kosovo, you wonder how they are going to do with something like Iraq."
PLEASE READ MORE HERE:
http://canada.com/national/story.asp?id=E1A583C8-5192-41AB-9E14-C8B472EDC4EB
_______________________________________
WAR CRIMINAL? MANY ARE STARTING TO THINK SO: http://www.zpub.com/un/clark.html