SO WHO SHOULD YOU VOTE FOR IN 2004?
Here are some choices....
DENNIS KUCINICH
Mr. Kucinich was not only against the war in Iraq, but he was also against the war in Yugoslavia. He was not hypocritical when his own President went to war in Yugoslavia without a UN vote. Kucinich is the ultimate Anti-War candinate. Kucinich does not vote on wars based on what his party thinks. He's not the most popular candinate for the Democrats, but he's one of the most brave and independent!
THE OTHER SIDE OF THAT COIN IS....
GEORGE W. BUSH
George W. Bush is perhaps the most popular choice based on polls. If you feel all forms of terrorism must be destroyed and removed from our lives without any hypocrisy or double standards, then we suggest you consider President Bush in '04.
OTHER CHOICES.....
AL SHARPTON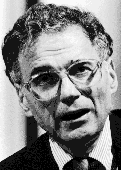 RALPH NADER (if he chooses to run!)